Ahhh…the poor maligned adverb. I completely agree with Matt Moore's 2012 post (and not just because we share the same last name) that there is a time and place for adverbs. Yes, we should avoid sloppy writing and be precise with our words, but that doesn't mean adverbs should be avoided at all costs. On the contrary, adverbs are a basic tenet of language. "To advise young writers to get rid of all their adverbs is like advising a pitcher with four great pitches to throw only three of them — it's professional suicide," Cris Freese, Writer's Digest.
Matt Moore (WordPress.com)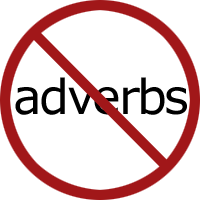 Nope, wrong
As a writer, you've heard the "rule" about never using adverbs. This rule is wrong for two reasons:
There is nothing wrong with adverbs.
There are no rules in writing… unless you are a weak writer.
What's wrong with adverbs?
Not using adverbs is the bastard mutant off-spring of some excellent writing advice: be  precise in your wording.
Don't say "very big". Say "enormous" or "huge".
Don't say "said quietly" but rather "whispered".
"Very big" is sloppy writing. I agree with that.
I also agree that adverbs can distance the reader or fill in details the reader should be filling in. Mark Landen knocks this idea out of the park in his blog post.
But this does not mean you have to excise an element of grammar. Eliminating adverbs is like eliminating gerunds, adjectives or any grammatical form. That is, there's a difference between taking issue with…
View original post 803 more words